Yoga Teacher Training, Denmark, Aug. 1 – 20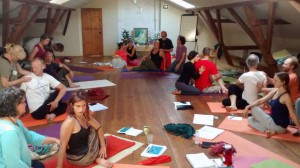 Ananda Marga Yoga Teacher Training
200 Hour Training Accredited by Yoga Alliance
AMYTT is a Yoga Alliance accredited teacher-training program that provides immersion into a lifestyle of inner joy and universal love. Our training program teaches yoga as a transformational tool for spiritual awakening and betterment of the human society. This inspiring and comprehensive yoga training will deepen your personal practice and give you the tools to teach yoga to others.
AMYTT provides all participants with a strong foundation in meditation, asanas, and other spiritual practices. Experienced and professional faculty facilitate a strong and supportive learning environment that integrates asana technique with anatomy, physiology, philosophy, cosmology, subtle anatomy (cakras and kosas), and dynamic teaching methods.
Training Orientation
We teach yoga as a transformational tool designed to give the practitioner deep happiness, a universal perspective on life, and spiritual awakening. Ananda Marga believes that such yoga is a resource to be used for the betterment of the individual and human society. Teaching yoga is an act of service, a way to touch other human beings with love, so that they, too, can be better equipped to navigate the path of life. Hence, our course is transformational for our students. As one of our previous students says: "I am transformed by the program! I am filled with the strength, knowledge, and courage to teach yoga to others. The love in the group was exemplary. I am trying to keep it in my heart and take it to wherever I am". The AMYTC program is open to yoga students of all levels, providing all participants with a strong foundation in Ananda Marga yoga and spiritual practices including asana practice and technique, yoga philosophy, asana teaching and methodology, anatomy and physiology.
Trainers
Acarya Vishvarupananda, PhD, RYT.
Dada has been a monk in the Ananda Marga tradition for over 27 years and has given personal instruction to numerous aspirants during that time. Dada has received additional training with Ananda and Kripalu. He has been teaching professionally since 2000 including college credit classes at George Washington, Maryland and American Universities. He has co-organized numerous weekend and five-day retreats for students and has led yoga teacher trainings in different parts of the world.
Dada Anuvratananda, E-RYT 200.
Dada has been practicing yoga and meditation from the Ananda Marga tradition since 2002. He received training to become a yogic monk in Sweden and India. Currently touring the USA and Mexico, he offers instruction in meditation and yoga at various universities, elementary and secondary education schools and social service institutions. He has co-organized several Yoga Teacher Trainings around the world as well as many weekend retreats, local, national and international events.
Curriculum
Part I
This session builds the foundation of the Ananda Marga style yoga in the core principles of the training through Bhagavat Dharma, meditation, defining Ananda Marga style asana practice, and introducing standing poses.
Astaunga Yoga and the Physical Body focuses on the physical components of asana instruction and practice with instruction in physiology, anatomy, alignment, preparatory poses, yoga massage, and shavasana.Techniques and strategies are presented concerning the ideal manner of understanding our interactional relationship with the world through yama and niyama, cosmogony (brahmacakra), service, kiirtan, and madhuvidya.Over 25 hours of asana technique, practice, teaching methodology and meditation are facilitated in this 62 hour session.
Astaunga Yoga and the Mental Body addresses subtle yoga anatomy: the structure of the mind, yogic explanation of the cakra and kosa systems, pranayama and pranindriya, neuroanatomy and the indriyas.Physiology as well as yama and niyama are revisited as we explore the inner rasa or dance of personal transformation. Over 40 hours of asana technique, practice, teaching methodology and meditation are facilitated in this 100 hour session.
Part II
Biopsychology and Integration of Physical, Mental, and Spiritual Aspects emphasizes the expansive phase of spiritual evolution of consciousness and the relevance of devotion.The impact of the endocrine system on human development and the higher cakras is explored along the history of yoga asana and the methodology of spiritualizing asana instruction. Over 40 hours of asana technique, practice, teaching methodology and meditation are facilitated in this 100 hour session.
Requirements to Receive Certification
It is our wish that this opportunity for personal growth and development be a success for each of you. In order to support you in that achieving this goal, we must have your commitment to the following:
Punctuality
Mandatory attendance to all programs
Adequate completion of all assignments
Class participation
Practice teaching
Full payment of tuition
Proper understanding of and adherence to principles of Yoga Ethics (Yama and Niyama – limbs of Astaunga Yoga)
Pre-study:
All Students are strongly encouraged to attend 2 yoga classes prior to the training and fill an evaluation form for each class.
Yoga Alliance
This 200 hour yoga teacher program is accredited by Yoga Alliance. Students are requested to maintain a strong code of ethics to ensure the physical, emotional, social and spiritual safety of all. Signing a Code of Ethics is required by Yoga Alliance. When all requirements are fulfilled, graduating student receive a certification from the Ananda Marga Yoga Teacher Certification School and may register with Yoga Alliance.
The Typical Daily Schedule
The AMYCT program is committed to providing inspiring yoga classes, energizing chanting, daily meditations, and delicious vegetarian meals. Every day promises a full schedule with a comprehensive curriculum that includes plenty of opportunities for hands on teaching and learning experiences.
6:00 Wake up
6:45- 8 Asana class
8-9 Morning Collective Meditation (including spiritual chants & dances & inspirational readings)
9-10 Breakfast + Karma yoga (chores)
10-12:30 Class
12:30 individual Noon Meditation
1-3 Lunch, free time, + karma yoga
3-5:30 Class
5:30-6:00 Class or free time
6-7 Evening Collective Meditation
7-8 Dinner
8-9:30 Class
9:30 End of daily program
Note: There will be Silence from 6 to 10 AM
Accommodation
Ananda Gaori has a combination of dormitories, rooms and grassy fields for camping. Most of the rooms have beds while the dormitories have mattresses on the floor. Participants should bring their own sheets, sleeping bag, etc. Those who need more privacy and peace (and loud snorers) are encouraged to bring their own tent and camp.
Registration
To register you must pay the advanced booking fee (750 Danish Krone) or the full amount and then fill out the registration form (see link below). The full amount must be paid no later than August 1st. The advanced booking fee is non-refundable. Cancellations prior to August 1st first will be refunded the amount paid minus the advanced booking fee. Cancellations after August 1st will be refunded by half the amount.
Click on this link register:
Cost
Normal Price: 13,500 Danish Krone
Early Bird Price: 12,000 Danish Krone (for those paying on or before May 1, 2015)
Price for Ananda Marga Acaryas: 4500 Danish Krone.
How to Pay:
By credit card or paypal here:
By Bank Transfer:
Account Information
Acount name: Ananda Marga DK Kurser/Courses. Bank: Jyske Bank; Account No.: 5018-0001348611; Swift/Bic: JYBADKKK
IBAN: DK2350180001348611
NB! Please include the words "Yoga Teacher Training" in the message line.
Contact Information
Site: Ananda Gaorii, Holbækvej 56A, 4560 Vig,
Denmark
Tel. +45 47314731
Mob. +45 91490811
Copenhagen (Ananda Marga Center)
Tel. +45 33241244
Tel. +45 33256671
Mob. +45 26453521
Mob. +45 71881273
Email: info@anandamarga.dk
Visa for Denmark
Those of you coming from outside Europe may require a visa to enter Denmark and some of you may need an invitation letter from the Prout Convention organizers before you can get a visa. If you send an email with your name, address, nationality and passport number to Vishva Shanti at obrekke@commediaschool.com he will send you an invitation letter.
Testimonials
I am transformed by the program. I am filled with the strength, knowledge, and courage to teach yoga to others. The love and caring in the group was exemplary. I am trying to keep it in my heart and take it to wherever I am.
It was what I needed to get back on the spiritual path. I needed something to re-awaken my desire and jump-start my meditation and asana practice.I now believe I can teach yoga.
I feel I know myself a lot better and am clearer about my goals and priorities. I feel the program helped me become more relaxed in front of groups.
For me the most transforming thing is the spiritual practice. Being at the program brought me so much closer to Baba and helped me come back to feeling the spiritual practice channelize my spiritual longing.
I was able to get support from my friends or teachers and move on. Honestly, I think this is an extraordinary group of people, very open, supportive and willing to share their love and support with fellow pilgrims, even if they don't "know," them.Thank you so much, I think you are on to a great program that will continue to be an amazing experience for those who participate.
The trainers were very attentive and supportive.I loved all of the workshops. They were fantastic at training our emotions and techniques at the same time. They were very powerful and I felt soaked in knowledge and understanding.
I felt like a different person after listening and learning all they taught.I feel that this program has given me the tools I need to become a strong confident teacher. This program not only made me feel I gained the knowledge I needed, but made me take a step back and look within myself.