Warm and Delicious Raw Foods for Autumn and Winter – Oct. 3
This course is a part of four courses by Raw Food expert Susanne Vodder during the autumn, each with their unique themes.

Theme of the course: "Warming Raw Foods for Autumn and Winter" 

Strategies on how to keep warm during autumn and winter time with grounding raw dishes. Basic and advanced techniques on how to create raw food which boosts your inner feeling of well-being and your immune system. Especially in Scandinavia it can be a challenge to eat raw food in autumn and winter time with the cooler climate at that time. However, many foods have warming benefits for the body – also when eaten raw. The class will cover questions such as "How can I stay warm inside during Autumn and Winter with raw food?" and "Which foods and superfoods helps me to feel warm inside?" You will learn how few changes can help you to stay warm and continuously motivated to eat raw food in autumn and winter time. We apply high nutritious superfoods and plants and herbs in all dishes.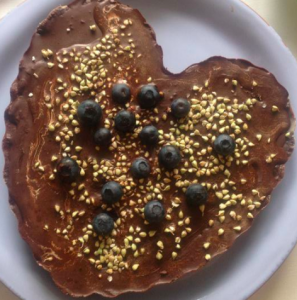 Friday, October 3, 15.30 – 19.30
Ananda Marga Yoga Center, Platanvej 30, Frederiksberg
At the course you will get to know basic raw and superfoods. I will introduce you to their unique qualities and apply them in the raw dishes. I will share with you ideas of how you can easily and simply, step by step, begin to integrate more raw foods – and if you already are an advanced raw fooder, you can also get inspired and learn how new/other raw and superfoods can be integrated.
During the workshop you will learn to create:
* Raw Semi-warm Chaga-Superfood-Chocolate-Elixir
* Raw Semi-warm Carrot-Gazpacho & Crunchy Crackers
* Raw Banana-Vanilla-Buckwheat-Cake
The afternoon begins with a presentation. You are warmly welcome to ask questions:) After a short break you will receive the manual of recipes and we'll begin working in the kitchen, preparing and enjoying the dishes together:)
15.30 – 17.30 : Susanne Vodder is telling about "Raw Strategies for Transition" – how you can integrate (more) raw foods in your current diet
17.30 – 17.50 : Break
17.50 – 18.50 : Raw Creations (& you can ask your questions)
18.50 – 19.30 : Raw Dinner
If you can't make it to the beginning of the workshop at 3 pm, you are most welcome to join later on:)
About Susanne Vodder : I have 9 years experience with functional medicine, which is about how we can eat with the consciousness that nourishing food is our medicine. 5 years blooming interest for raw food – I've been educated by some of the worlds leading raw food experts, and teaching for 7 years, 2 years in raw food, has given me a stable foundation to inspire, and i love how nourishing food can enrich our lives. My educational background is Master of Public Health (University of Copenhagen), which i combine with my current education as a psychotherapist.
Dates for next courses:
Nov. 11 at 15.30-19.30
Theme: Raw Christmas Delights:) How raw Christmas goodies can enrich every Christmas dinner and be so nourishing and delicious at the same time, that you won't think about the traditional ones:) You learn how it's easy and simple to create raw goodies of the best quality .
Dec. 5 at 15.30-19.30
Theme : Raw Christmas: We create a Christmas drink, Christmas salad and Ris a la Mande (traditional Danish Christmas dessert)
How do you lift your health level in December, so that you can enjoy, nourish and care for yourself at the same time? How can you eat perhaps traditional Christmas food and at the same time keep your health high?
Price is 170 for student and unemployed, 270 for others if you book and pay before 1st October, after which after which the price is 190/290 kr., (This includes: 4 hours of teaching, the recipe manual and the raw dishes. All participants of the workshop get 15% discount at the raw and superfoods from Raw by Vodder (see all here www.rawbyvodder.com )
Registration, email: vodder@hotmail.dk or text 50 50 92 55.
For any inspiration before the course, you can visit me herewww.voddersconsult.com
Looking greatly forward to see you:)