Vegetarian Fundraising Dinner
Live Music & Cultural performances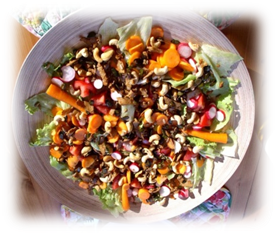 When: Saturday April 28th  17:00- 21:00
Where: Ananda Marga Centre, Platanvej 30, Frederiksberg
Price: 100 dkk and free for children under 12        
Registration & Information: Málinii 30893418 or veggiedinner2804@yahoo.dk
With this Vegetarian Fundraising Dinner we want to focus on women, who dedicate their lives to serving others. Through their dedication and strength they are the driving force to start  and manage projects in many parts of the world that are in need of ressources of different kind. Kindergartens, schools, yoga centres, ecological farms are only some of the examples.
We have chosen two Didis to offer our support to this time. In sanskrit "Didi" means "sister". Didis are nuns of Ananda Marga, an international spiritual and social service organization with its home base in India and a network of centres around the world. The motto of Ananda Marga is "Self-Realization and Service to the Universe". Self-Realization means realizing the love, peace and happiness which is our true nature. Service means helping to provide living beings with security, progress and happiness through all kinds of social service activities.
Didis create, through their work and loving presence, a strong sense of community and inspiration around them.
Didi Ananda Arpana has been working as a Didi since 1994.  One of the projects she helped to build is
Sunrise pre-school in Copenhagen. www.sunrisepreschool.dk
Her loving nature and deep understanding of yoga and meditation has helped many people in their journeys. Giving inspiration through her talks, poems and singing, she has been bringing light and wisdom to many corners of the world such as Japan, South Korea, Russia and Czech Republic. She is now in Croatia, were she is establishing a yoga centre, which is going to benefit the community of Karlovac to a more balanced and healthy life.
Didi Ananda Jaya has been working in different projects around the world for the last 30 years. She is currently running 5 projects for 500 children between 1-11 years old from very poor areas in São Paulo, Brazil. CEI (Centro Educaciona Infantil/Childrens Education Centre) is based on Neo Humanist Education, which focuses on the all-round development of children from the physical, psychological, social and spiritual points of view. The children learn from a very early age to be in contact with themselves through yoga and meditation and learn values such as compassion, respect and cooperation through a playful and loving learning environment.  www.amurtamurtelsp.org.
Doc1Organizers: WWD (Women's Welfare Department) & RAWA (Renaissance Artists and Writers Association)