Spring Retreat – April 17 – 20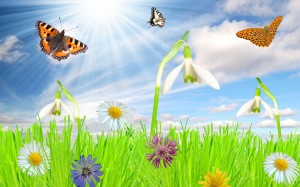 You are warmly invited to attend the annual spring retreat during the Easter holiday. Enjoy the company of other spiritual people, useful workshops on spirituality and new social ideas, longer sessions of chanting and meditation, and time outdoors in the garden and fresh country air. The retreat provides a valuable opportunity to spend time in a supportive and inspiring environment free from the distractions of everyday life. The retreat will be held at Ananda Gaorii Master Unit, our 10 hectare retreat center and organic farm in Vig, an hour from Copenhagen in the Danish countryside.
Who Can Attend?
The retreat is open to all, however it is primarily aimed at intermediate and advanced meditators. Some prior experience of Ananda Marga practice and lifestyle is recommended but not compulsory. The meditation and chanting sessions will be longer than those in a beginners retreat (usually half an hour chanting and half an hour meditation), the workshop topics will be a little more advanced and the stories and experiences shared will be of a more devotional nature.  There will also be two intensive programs: Akhanda Kiirtan (6 hours circular Kiirtan) and Sadhana Shiviir (alternating kiirtan and meditation for 6 hours). If you are new but want to give it a try, you are most welcome and our teachers will be happy to give you guidance and answers to your questions.
Accommodation/What to Bring:
Ananda Gaorii has a range of accommodation including small rooms (unheated); larger rooms (heated) and dormitories (heated). You can also camp if you have your own tent. Mattresses on the floor are provided (small rooms have beds) but participants should bring their own sheets and sleeping bags. Please bring warm clothes for outdoors.
Times and Prices:
Arrival: Thursday the 17th of April between 18:00 and 19:30
Departure: Sunday the 20th of April after 14:00
Price: Normal – 100 euros; Students and Unemployed – 60 Euros.
Teenagers 13 to 18 – half price; Children until 12 years of age – free
Payment:
Bank account: 5010-0001465289 (Jyske Bank)
IBAN: DK95450100001465289
BIC/SWIFT: JYBADKKKF
Registration and More Infomation:
FB: Trilokesh; Email: info@nhls.eu; Tel: +45 29423037
Getting There:
Trains to Holbaek leave every half an hour from Copenhagen station. Give us a call when you get on the train and we can pick you up from Holbaek. To come by car look up 56 Holbaekvej, Vig on Google Maps.