Spiritual Adventure Retreat
Enjoy Meditation, Yoga, Hiking and Canoeing
In the forest of Skåne, Sweden near Helsingborg
May 17 – 20, 2013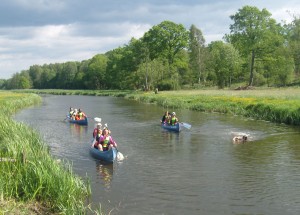 Includes:
  Meditation and yoga
  Hiking and canoeing
  Talks on spirituality
  Music, games and fun
  Tasty vegetarian meals
  Personal guidance
Cost:            
   1000 DKK/NK/SEK (according to where you come from)
   800 for students and unemployed
   Includes full program, food and accommodation
Accommodation:
  At Ugglegarden Farmhouse, Stidsvig (www.ugglegarden.se)
  On the edge of the forest – see elk and deer.
Registration:
  info@anandamarga.dk
+45 26453521, 33241244
 Deadline: May 10, 2013.
 Konto/Ac: 5010-0001465289
 IBAN: DK9450100001465289
 SWIFT/BIC: JYBADKKK).
 Arrive/Depart:
 Gather at Platanvej 30 at 16.30, Friday, May 17
 Return approx 16.00, Monday, May 20