Ecovillage Design Education
August 18 – 31, 2014
November 1 – 15, 2014
Ananda Gaorii Retreat Center and Organic Farm, Vig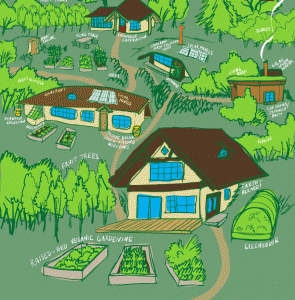 These trainings are based on the comprehensive Ecovillage Design Curriculum introduced by Gaia Education: (http://www.gaiaeducation.net/index.php/en/publications/curriculum.html) with input from members of the Danish Ecovillage Network. They cover the Social, Ecological, Economic and Worldview dimensions of community design and is applicable at various levels including projects, communities and society as a whole.
They take place at the Ananda Gaorii spiritual community close to Copenhagen and includes study visits to 5 nearby Danish Ecovillages. We intend to use the ecovillages themselves, with all their experiences, as a learning space. Denmark has the highest number of ecovillages per inhabitant and the eco-community phenomena is in a process of being mainstreamed by municipalities and other actors. The EDE curriculum will be used in the design process of new projects, but also in the analysis of the visited ecovillages.
The training is divided into two parts:
Part 1: Social and Ecological: Aug 18 – 31, 2014
Part 2: Economy and Worldview: Nov 1 – 15, 2014
Part 1 Content: 
Social 
• Module 1: Building Community & Embracing Diversity
• Module 2: The Art of Compassionate Communication
• Module 3: Facilitation Skills: Decision Making &
Conflict Resolution
• Module 4: Personal Empowerment
and Leadership skills
• Module 5: Celebrating Life: Art and Creativity
• Module 6: Local, Bioregional and Global Outreach
Ecological
• Module 1: Whole Systems Approach to
Ecological Design
• Module 2: Appropriate Technology: Water
• Module 3: Organic Agriculture and Local Food
• Module 4: Appropriate Technology: Energy
• Module 5: Green Building & Retrofitting
Part 2 Content: 
Economy
• Module 1: Shifting the Global Economy
to Sustainability
• Module 2: Making Money our Servant rather than
our Master
• Module 3: Right Livelihood
• Module 4: Social Enterprise
• Module 5: Legal and Financial Issues
Worldview
• Module 1: Holistic Worldview
• Module 2: Listening to and Reconnecting with Nature
• Module 3: Awakening & Transformation of
Consciousness
• Module 4: Personal Health, Planetary Health
• Module 5: Socially Engaged Spirituality
Objectives of the course: 
– Providing a practical training for those interested in starting/joining an ecovillage or other form of community
– Empowering and enabling activists and educators with skills and solutions for creating sustainable, holistic and caring societies from local to international levels.
– Deepening understanding of the causes of today's crises and the nature of transformations required to solve them.
– Empowering individuals and communities with the knowledge for becoming more self-reliant while engaging in bioregional as well as international cooperation.
– Cultivating self-knowledge, personal empowerment and well-being through daily practice of meditation, yoga and the healing arts.
– Building learning communities and inviting active citizenship.
– Imparting useful and instrumental life-skills, including leadership, communication and project management and design skills.
Trainers (all trainers have EDE experience):
– Ditlev Nissen – Chairman of the Danish Ecovillage Network. Teacher and facilitator in conflict resolution, democratic participation and economic aspect of ecovillage design.
– Rakesh Bhambri – Permaculture designer and trainer. Specialist in forest gardening. Transition Towns consultant & Sociocracy trainer.
– Erik Lemcke – Long experience as a process consultant. Masters in Social Entrepreneurship. Co-founder of Transition Denmark and certified Transition Trainer.
– Camilla Nielsen-Englyst – Project manager, future workshop holder and trainer at Action Aid. Creator of innovative learning platforms, social activist, trained coach and democracy consultant.
– Dada Krsnasevananda – Monk of Ananda Marga. Meditation guide, activist, poet and musician. Activity co-ordinator at Ananda Gaorii.
– Stefan Per de Freitas – Founder and coordinator of the Human Being Center. Holistic healer & psychotherapist. Certified practitioner of Body Self-Development System.
Facilities:
Ananda Gaorii is a ten hectare organic farm and retreat center. We have a mixture of rooms from small, double bunk rooms to large dormitories. The rooms have beds and the dormitories have mattresses on the floor. There are halls for meditation and classes and a good size kitchen and dining room (with talented vegetarian chefs). There are comfortable shower and toilet facilities and WiFi. The beach is ten minutes away by car and there are pleasant walks available in the surrounding rural countryside. Medical and shopping facilities are five minutes by car (15 minutes by bike) in the small town of Vig. Copenhagen is an hour by car and an hour and twenty minutes by public transport.
Projects:
Projects on the farm include growing organic wheat, fruit and vegetables, starting a forest garden, developing wind and solar power and refitting some of our vehicles to run on electricity and hydrogen. We have an organic and gluten free bakery providing fresh bread daily. We provide a home for 9 Icelandic ponies who in turn provide us with manure for our veggies. We are negotiating for an ecovillage allotment with the local kommune.
What to Bring: 
Sleeping Bag, Sheets, Towel, Toiletries, etc. Swimsuit (for August|), hat, sunscreen, jacket/sweater for evenings (warm clothes for November);
Cost:
Each two week part will cost between 300 – 700 Euros depending on the financial capability of the applicant. Some scholarships or work exchange arrangements may also be available. Please enquire with the organizers.
Registration:
To register for part 1 click HERE
How to Pay: 
Make a bank transfer to:
Account No. 5010-0001465289
Iban No.: DK9450100001465289
Swift/Bic Code: JYBADKKK
Bank: Jyske Bank, Vesterbrogade 9, 1780
København V
Note: When you make a bank transfer please include a message: "August EDE" or
"November EDE"
Contact Details: 
Facebook: Dada Krsnasevananda (or EDE event page)
Mobile: 0045 71881273

Comments or questions are welcome.