5 Day Intentional Community Design Course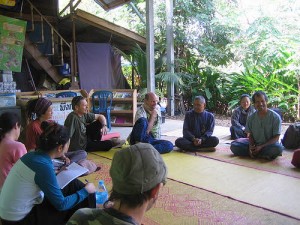 Learn how to create highly successful intentional communities
July 13 – 17, Ananda Gaorii, Denmark
As economic conditions across Europe continue to worsen there are a growing  number of people thinking about moving to the countryside and joining an existing community or creating their own in order to pursue a more sustainable lifestyle, grow their own food and find a deeper level of spirituality and community. Such a big change is not easy and requires knowledge, skills and preparation. That is why we have decided to hold a workshop on intentional community design conducted by some excellent teachers with a lot of experience.
Permaculture trainer and activist, Rakesh Rootsman from the U.K., is coming to Denmark to teach this 5 day course on intentional community design. He will be assisted by Cathrine Dolleris who is also a Permaculture trainer and is living on an intentional community in Jutland, Denmark.
In this workshop you will get a toolbox that prepares you for one of the greatest adventures of life! The toolbox includes "Dragon Dreaming", a technique for creating a collective vision, making plans for implementation, doing the work and making sure everyone celebrates what has been achieved.
We'll get into essential questions of what is an intentional community, why we would want it, how it's done and who will do it. Core values, creating visions, financing, conflict resolution, motivation, legal structures, sustainability, diversity and teamwork are all crucial matters to be investigated. We'll look at case studies of different types of intentional communities in Denmark and abroad and invite representatives from local Danish communities to speak about their way of living.
Come and join us for an exploration of the design of intentional communities and get closer to your dream!
 Accommodation
Ananda Gaorii is an Ananda Marga retreat center and organic farm situated in a picturesque rural area near Holbaek, Denmark. There are pleasant walks and a beautiful beach is only ten minutes by car. Ananda Gaorii has a mixture of dormitories and rooms with enough heated space for 60 – 70 people. This year we have a large and comfortable new house with views looking out over the lake and orchard. We provide mattresses on the floor but participants should bring their own bedding.
Registration
The cost of the workshop is kr 3.200 for 2 days and kr 3,600 for 5 days. Prices include program participation, accommodation and food (vegetarian). The registration fee can be deposited in the following account at Jyske Bank: 5010-0001465289 (For international deposits: IBAN: DK9450100001465289; SWIFT/BIC: JYBADKKK). To register please contact Dada Krsnasevananda: email: krsnasevananda@gmail.com; Mob: 71881273, Tel: 32106828. (Note: Discounts and concessions can be applied for.)
What to Bring
Towel, bedding, toothbrush, soap, etc. and yoga mat if you have one.
How to Get There
By train we can pick you up from Holbæk Station. There is a direct train from Copenhagen Central. By car, please click on this link: http://on.fb.me/WQAo3z. The contact numbers for the farm are: 47314731 and 26453521.
Program
Day 1:
·        Introductions and Expectations
·        A look at existing communities
·        Structures and organization – co-housing, eco-village, self-building.
·        Legal structures
·        How to start a community with Dragon Dreaming?
·        Creating clear objectives
·        Deciding on how sustainable you want to be
Day 2:
·        How to start – continuing with Dragon Dreaming
·        Planning – introducing planning tools including Logical framework approach
·        Identifying assets and ressources
·        Gather peoples interests
·        Decision-making processes
Day 3-5:
·        Dragon Dreaming continued
·        Planning: Pattern design based on C. Alexander's Pattern Language
·        Diversity of skills, Motivation, Teamwork
·        Doing: skills, materials, information
·        Visit to a local intentional community
·        Celebrating: Why celebrate? Relax, Reflect
·        Conflict resolution
·        Where to go from here?